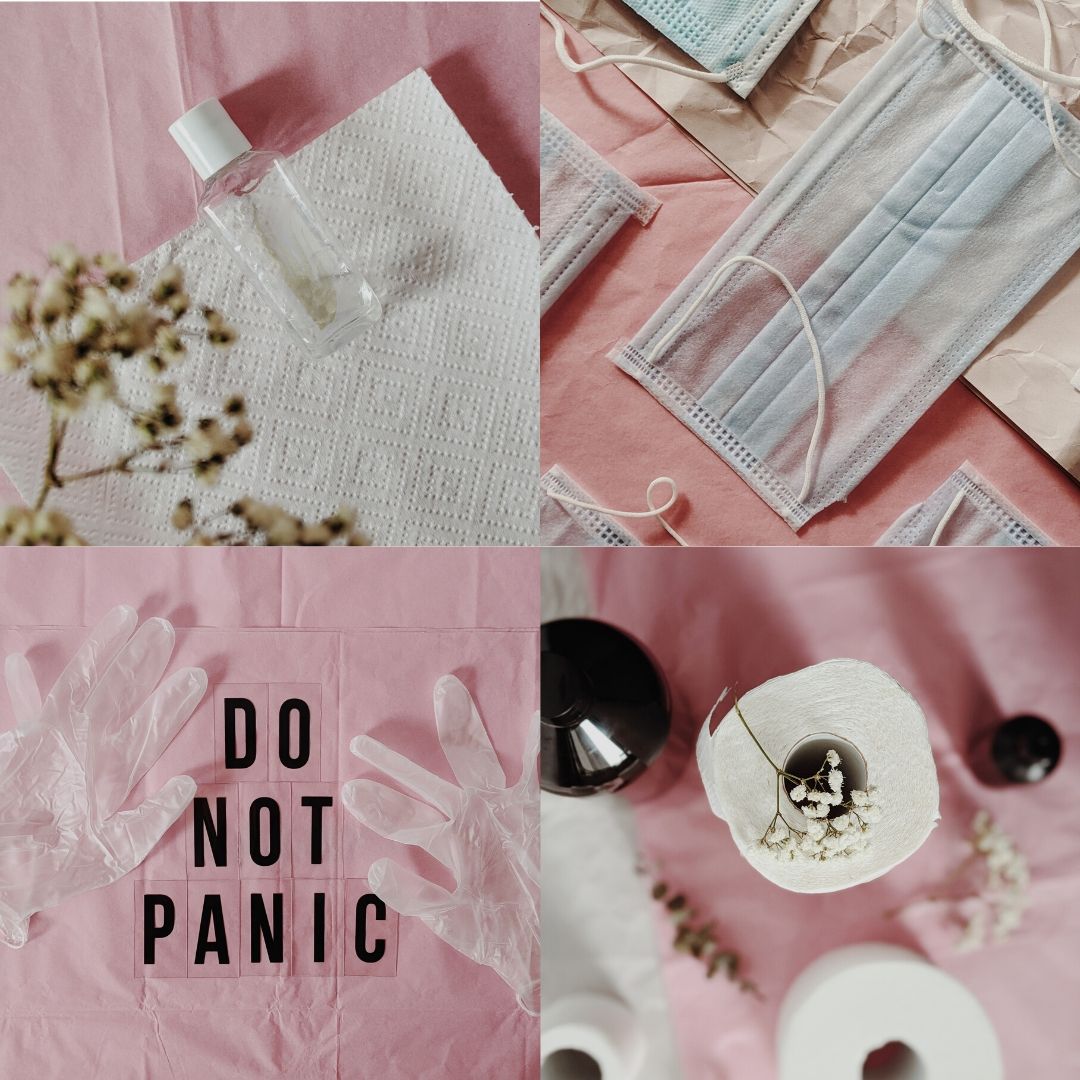 10 Things to carry when you travel post Pandemic
Traveling is not going to be the way it used to be. Yes, some day, this pandemic will be completely over. But if you ever decide to travel to any other country where there isn't any risk, I will still suggest that you carry these essential things required for your safety. If you are traveling with family, these accessories will be even more helpful for you to be healthy. 
The main motive to share these items with you is that, I have used them in Mumbai, where the number of cases have been the highest in India. My friends who are working on the front line, have been using some of these products to keep themselves safe as they didn't have the option of working from home.
YOU WILL BE ABLE TO AVOID PUBLIC SPACES AS MUCH AS POSSIBLE WHEN YOU TRAVEL. 
THE MOST COMMON AREAS ARE RESTROOMS WHERE YOU ARE PRONE TO GETTING INFECTED THE MOST. IF YOU CARRY THE THINGS I HAVE SUGGESTED, YOU CAN COMPLETELY STRIKE OUT THE RISK OF GETTING INFECTED AT PUBLIC RESTROOMS, RESTAURANTS, ETC. 
Pandemic ACCESSORIES to use while traveling in the near Future!
Toilets at the Airport, Aeroplane, Train or Bus stations, or at Gas stations cannot be disinfected every time a person uses it. The workers clean after few people have used it. The best way for you to take care of yourself is by carrying your own Toilet Sanitizer. Instead of getting paranoid, we can take these precautions. 
Hyge Toilet Sanitizer makes toilet seats 99.99 % germ free in just 5 seconds without leaving any residuals. HYGE TOILET SEAT SANITIZER is the most advanced & effective toilet seat sanitizer that gives a clean and hygienic toilet experience. 
Irrespective of the pandemic situation, I think this is a must have for all your travels, especially for women who are not comfortable using public restrooms. 
Waterproof toilet seat cover take care of your personal hygiene to avoid infections and diseases.
100 Percent water proof

It can be placed on a wet seat

Soft, comfortable, hygienic and easy to use, fits in to backpacks, purses and pockets

Ideal for kids, women's hygiene and pregnant women – waterproof, disposable, easy to carry, hygienic, convenient and light weight

Use it conveniently and throw it in the dustbin after use
These covers can be used irrespective of the Pandemic situation to avoid other Urinary track infections. You can easily carry them in flights where liquids are prohibited in cabin.
The Disposable gloves gloves can be used on both left and right hand. The size is also suitable for all hand sizes. Therefore, you can easily wear and use them during any situation.
These Disposable Hand gloves are latex free also, therefore reducing the risk of hypersensitivity and allergic reactions to the skin.
For Medical Use


Disposable gloves are often used by medical personnel and volunteers. 
Wearing gloves does not guarantee that you will not be infected. If you wear gloves and then touch your face, it will be of no use. Wearing disposable gloves is for doing your work, traveling, and then disposing it off once you are about to touch clean surfaces or hygienic surfaces. Remove the gloves and then touch your face. Please check out this video for the right way to use gloves. 
Travel Reusable Mask
WEARING A MASK IS GOING TO BE COMPULSORY AS IT IS ALREADY IN MAJORITY OF COUNTRIES. BETTER TO WEAR THE PERFECT MASK WHILE TRAVELING IN FUTURE.
Instead of throwing the mask after using and contaminating the surrounding, you can reuse the masks by washing them with Laundry sanitizer. 
Cotton Washable face mask is a recommended travel accessory. Whether you are travelling by air, train, bicycle, car, or just walking around.
A perfectly fitting mask is always a good option for airborne diseases. 
WEAR THIS MASK EVERYTIME YOU TRAVEL, EVEN FOR SIGHTSEEING. NO MATTER HOW MUCH SOMEONE SAYS, THAT A PARTICULAR COUNTRY IS OUT OF DANGER.
WASH IT WITH THE DETERGENT SANITIZER AFTER YOU REACH YOUR HOTEL ROOM. ALWAYS CARRY 3 MASKS FOR ONE PERSON, SO THAT YOU CAN WASH EVERYTIME AND HAVE A DRY MASK READY TO USE. 
YOUR SAFETY IS IN YOUR HANDS. 
For long travel by flights, with longer transit times, we often tend to use the restrooms at the airports for freshening up. I am therefore, suggesting the ways you can totally avoid using the restroom. The only time you should visit the restroom is if you want to use the toilet and that too with the Toilet Spray or Toilet Seat Cover as suggested above. 
Safer and hygenic body cleansing: Disposable bathing and refreshing wipes which lift away impurities gently, quickly and effectively from the skin. These disposable wipes are a safer and hygienic alternative for bathing. It is the ideal product for no rinse body bathing, specially if you are traveling with children or babies.
Antiseptic wipes: The bathing wipes contain no alcohol which reduces the risk of skin irritation. It contains vitamin e, aloe vera extracts and fragrance. These wipes disinfectant and antiseptic that protects the skin from infections. The olive oil extracts and vitamin e keep the wipes soft against the skin and moisturizes the skin gently. The fragrance makes the user feel relaxed and fresh.
Time saving: save your time by using towelettes bathing and refreshing wipes for a quick shower, while showering a person with mobility.
Easily Disposable : And in addition to all above, these wipes are easily disposable and perfect when you are on the go.
Easy to carry and dispose.
Multipurpose Disinfectant Spray
Alcohol-Based, Kills 99.9% of Germs

Effective on hard and soft surfaces

Protection from disease-causing bacteria and viruses

Fruity floral fragrance

Kills cold & flu viruses
As we are well aware that all seemingly clean objects are not actually safe.
Multipurpose Disinfectant Spray comes to our rescue. I have been using it on a daily basis to disinfect the door knobs and for mobiles too. We often forget to disinfect our phones which is more important. 
This disinfectant spray, which kills 99.9% of germs and viruses. 
Ideal for: Hard and soft surfaces like bathroom, bedrooms (mattresses and curtains), car seats, doors and knobs, office desk, kids' toys, etc.
PERFECT FOR TRAVEL. ONCE YOU REACH YOUR HOTEL ROOM, DISINFECT THE ROOM USING THIS SPRAY FOR YOUR STAY. 
USE IT EVERYWHERE YOU TRAVEL FOR BUS OR SUBWAY SEATS.
Laundry Sanitizer hygienically cleans your clothes and eliminates germs.

This can be used with any washing machine detergent or washing powder.

ALWAYS A GOOD IDEA TO CARRY IT ALONG WITH YOU WHILE TRAVELING. DAILY WASH YOUR CLOTHES WHICH YOU WEAR FOR SIGHTSEEING AND DISINFECT THEM USING THIS SPRAY.YOU CAN USE THIS EVEN AFTER THE PANDEMIC IS OVER TO ALWAYS KEEP YOUR CLOTHES SANITIZED.  
Paper soap is small and easy to carry, a small piece of paper soap tablets can wash their hands, water can be completely dissolved, decontamination, cleaning is a good partner for your health clean.

Dry hand out of a hand on the palm of your hand, wet with the right amount of water for a few seconds, gently blistering, clean the skin after the rinse with water.

Pocket size paper soap are perfect for travel, business trip, camping, hiking, BBQ or any outdoor activities, just keep it in your bag for daily use.
AVOID USING THE WASHROOM/RESTROOM SOAPS OR TOUCHING ANYTHING. USE YOUR OWN PAPER SOAP. 
Tablet tissue is i

deal for home, office, restaurants, hospitals, schools, picnic, camping, travel.

You can put the tissue in other types of liquids to use it is as a functional tissue.

Easy to carry (due to its size)

Just add water and watch the magic unfold" a unique environment-friendly Tissue which can be used everywhere around the globe.
 Tablet tissue will expand into a full size napkin when a little water is added, which changes the common use of a napkin into an entertaining experience.
Eco-friendly luggage covers to protect your bag while protecting the environment. Made with recycled material.

Double stitched and elastic; protects your suitcase against dirt, scuff marks and scratches.

Highly stretchable polyester-spandex mix, fully covers the luggage and ensures its protection.

Unique bright and beautiful designs makes luggage instantly recognizable even on in a crowded conveyor belt.
THESE COVERS ACTUALLY HELP YOU TO KEEP YOUR SUITCASES VIRUS FREE FROM INSIDE. ALL YOU WILL NEED TO DO AFTER REACHING YOUR HOTEL ROOM IS – 1. REMOVE THE LUGGAGE COVER USING THE GLOVES. 
2. WASH IT WITH THE DETERGENT SANITIZER. 
3. USE THE MULTIPURPOSE SPRAY ON THE HANDLES OF THE SUITCASE.
4. USE THE COVER AGAIN WHEN YOU TRAVEL. REPEAT THE PROCESS. 
This Pandemic is going to leave long lasting effects at least for a year after it is over. It is always better to take precautions than to be sorry. Small steps towards personal hygiene will go a long way in dealing with this Pandemic and after effects of Pandemic. Also some of the hygienic accessories will help you even when the after effects are over. 
DISCLAIMER: Some links in this blog might be affiliate links. If you purchase any product or service with the links that are provided by me, I might receive a small commission. Don't worry, you don't have to pay any extra charges! I only suggest products or services that I really love and are of great use for anyone who travels. Whenever you purchase anything using my affiliate link, it helps me to provide more free content and continue blogging. Please support travelandmeditate.com as you already do. Thank you so much! Keep reading and sharing my articles if you like!