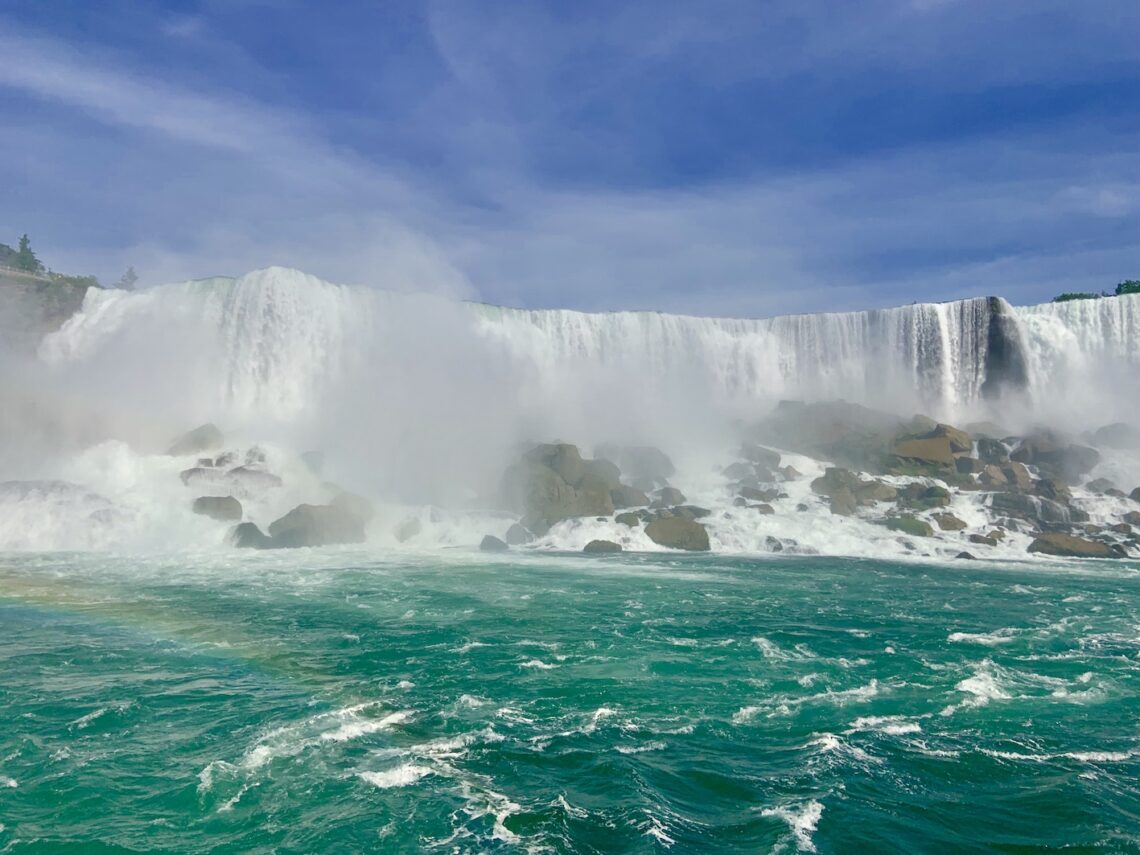 Niagara Falls In-Depth Tour
Niagara falls was always been on our mind. For this reason, when we decided to go to the USA, my mom happily exclaimed – We are going to see Niagara Fall!! Looking at her happiness, I thought to myself… "Here goes my Californian dream". Only because I wanted to go to the West coast first and explore California" But, whatever happens, happens for the good. So, that's when I decided to visit a few places but only in the East Coast.
Moreover, we all didn't want to rush because my dad is already a senior citizen and mom is about to be. I didn't want us to just "touch and go" after traveling thousands of miles. Above all,  these places and cities, my parents had only heard of in the books and seen in the movies. Also, it's 'THEIR' hard- earned money saved for enjoying after retirement and visit the places they only dreamed of. Who am I to impose my dreams on them? And hence, I did my job of planning the trip and being their guide throughout. Besides, it was the first time that I was going to be their guide and not vice-versa. So, yes, that's how we traveled to the US for the first time.
Understanding the Geography
Niagara Falls is a group of three waterfalls in between the border of the New York State of the USA and Ontario, Canada. The smaller American Falls and Bridal Veil Falls lie entirely within the United States. Did you know? The Bridal Veil Falls are separated from Horseshoe Falls by Goat Island and from American Falls by Luna Island, with both islands situated in New York as well.
Horseshoe Falls, which is also known as the Canadian Falls, is exactly in the midst of the international border of Canada and USA. Although, the frontal view of this huge waterfall can be properly seen from the Canada side.
On the other hand, American Falls and Bridal Veil Falls are completely inside the USA borders. Goat Island in New York separates the Bridal Veil falls from the Horseshoe falls, while Luna Island separates the Bridal Veil falls from the American Falls.
The falls are 27 kilometres (17 miles) away from Buffalo in the New York state and 121 kilometres (75 miles) away from Toronto. The falls lie between the twin cities of Niagara Falls, New York and Niagara Falls, Ontario.
SCARED TO TRAVEL?
CHECK OUT THE LIST OF THINGS TO CARRY WHILE TRAVELING DURING AND AFTER PANDEMIC.
Which side has the best view of Niagara Falls?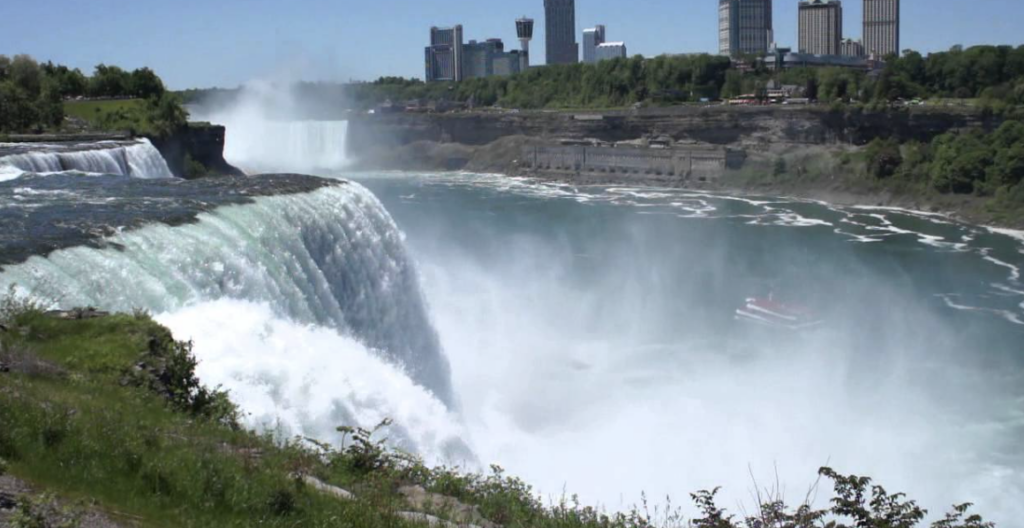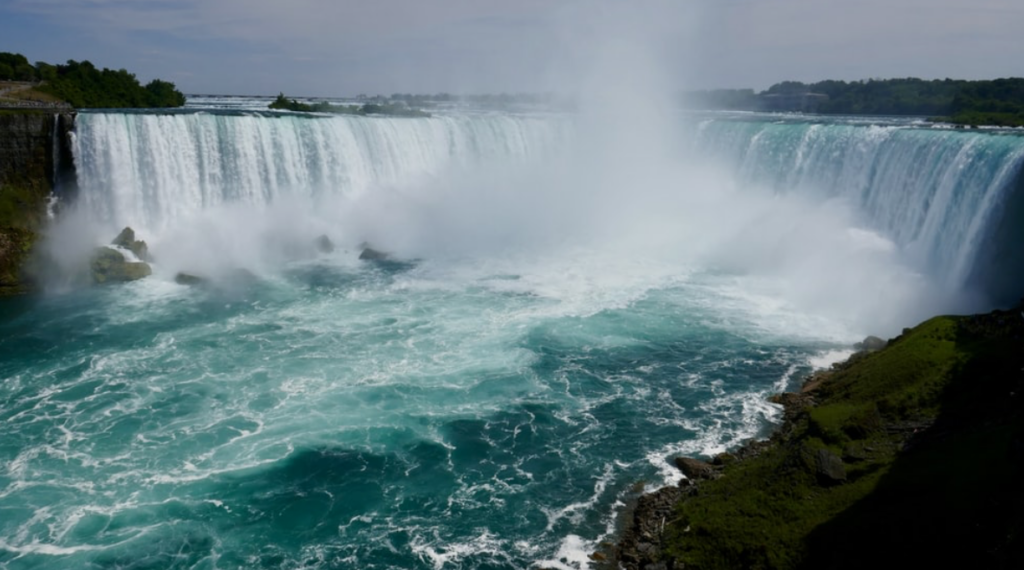 You can experience a view of Niagara falls from either sides or any of the countries. Since, both countries provide a different view, there is always a debate about which provides the best view.
I haven't been to Canada, but after looking at the US side, I can tell you that a more frontal view of the Horseshoe falls is possible from Canada only. I guess Canada wins here, Undoubtedly. But this is my opinion. You might disagree. But that's okay. I hope I get to see the Canada side soon!
Although, you cannot visit the Bridal Veils and Cave of the winds in Canada. It has its pros and cons. 
Better to visit both the sides right? 
In-Depth Tour of Niagara Falls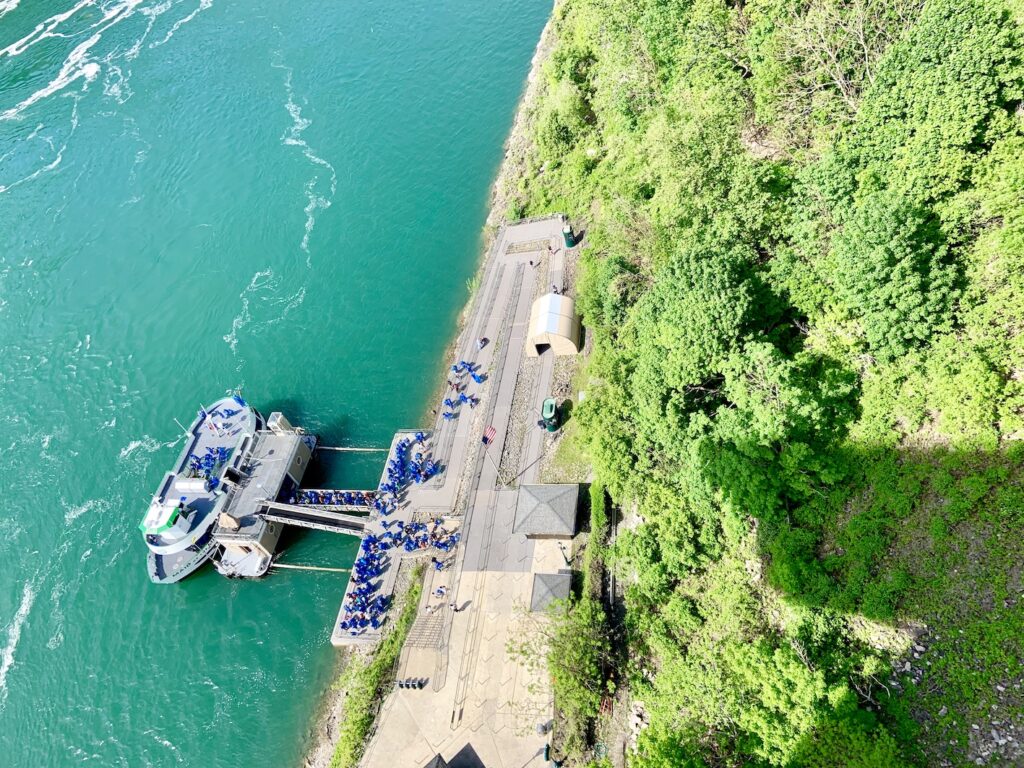 Maid of the Mist tour takes visitors on a journey of their lifetime near the foot of the Niagara Falls State Park's Horseshoe Falls. The Maid of the Mist boat tour in Niagara Falls is one of the divine experiences one can ever have.
The Maid of the Mist Boat journey begins at the Observation Tower, where passengers are given a blue colored rain poncho to wear and board the double-deck boat. (Blue color is for the USA side, while Red coloured Poncho is for Canada side)
The boat travels across the border and leads you to the roaring waterfall. When you are at the basin of Horseshoe falls, trust me, you will be so damn mesmerized that you would want to pinch yourself to be experiencing something like that. To be honest, the water showering upon you feels like morning dew, and it will for sure take your breath away. For a moment, you will be able to visualize what heaven might be like. When the boat returns, you will feel as if you just returned back to earth from the paradise.
P.S. : Keep the ponchos in good condition so that you can bring them back to your tropical countries as a souvenir. Thank me later.
Summer Itinerary only April – October
Admission (Optional): Adult $22.25; Child (6-12 yrs) $13; Senior (Over 65 yrs) $22.25|Duration: Approx. 30 Minutes.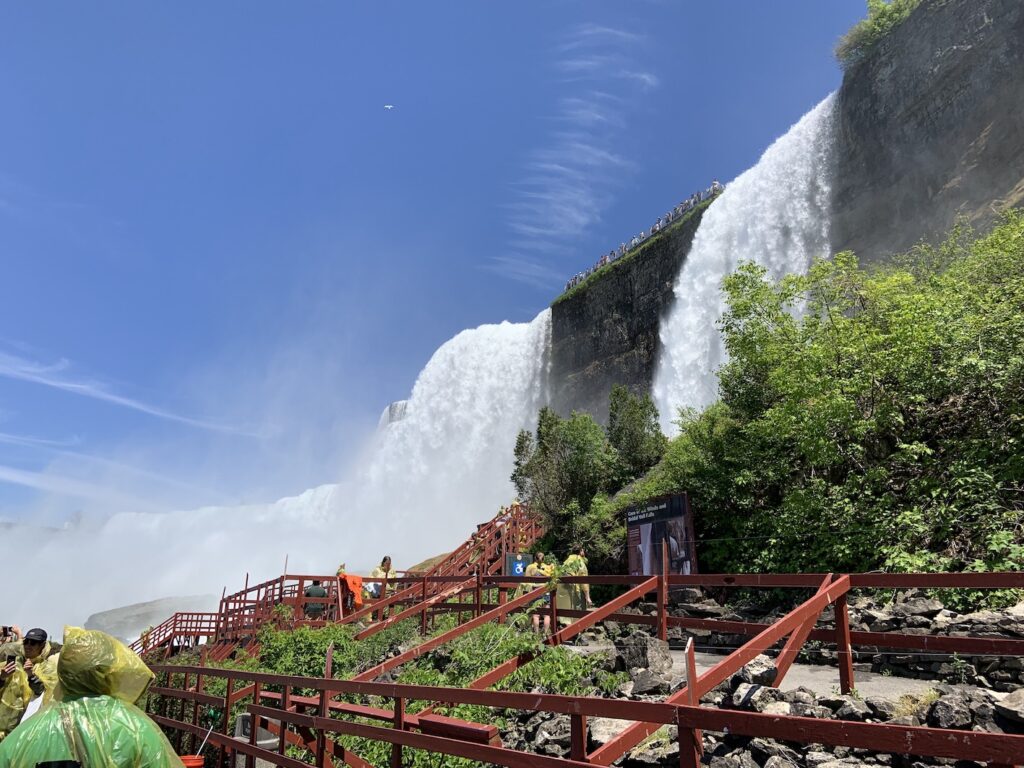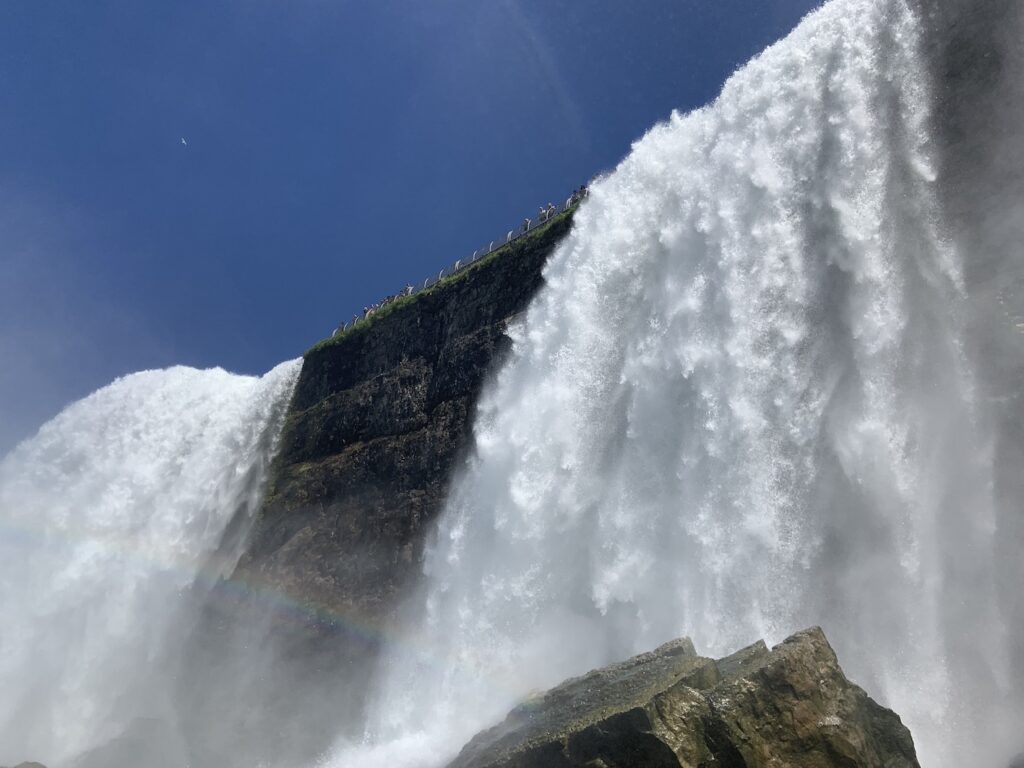 Before going into the Niagara Cave of the Winds for your surreal adventure, get to know how Nikola Tesla utilized the power of the Falls and created alternating current. Also, get to know what Niagara Falls initially looked like before it was a park. You will understand the reason why people from all over the world are attracted to the God-like Niagara falls when you enter the "World Changed Here Pavilion" and watch the documentary. 
Afterwards, you will be provided with a plastic bag to keep your footwear and wear the rubber sandals which the park provides before descending towards the Cave of the Winds. You can carry these sandals back home as a souvenir. Yellow ponchos will be given to you this time to keep you dry. But trust me, they won't work as you will be at a distance of less than a metre from the giant falls. This is the only place which takes you this close to the Bridal Veil Falls. You can climb the stairs and experience the falls in your own way. I literally danced standing under the flow of water. You can too. 
Summer Itinerary only April – October
Admission (Optional): Adult $19; Child (6-12 yrs) $16; Senior (Over 65 yrs) $19|Duration: Approx. 1 Hour 30 Minutes.
Related Post :
Since you are visiting Niagara Falls, you might also visit New York City 
Jet Boat Ride takes you on a thrilling and adventurous trip in the Niagara River.
It is a 45 minute round trip through the river. It is not advisable for people with heart and back problems. Also, it depends on the weather.
According to me, Maid of the Mist provides a more better way of calmly observing the Falls. Jet Boat ride will give you the adrenaline rush. 
Admission (Optional): Adult $69; Child (4-12 yrs, mini of 40′ tall) $69; Senior (Over 55 yrs) $69|Duration: Approx. 45 Minutes.
Niagara falls – Old Fort Niagara
Old Fort Niagara is located near Youngstown, New York on the eastern bank of the Niagara river at its mouth, on Lake Ontario.
Old Fort Niagara is a historic site that offers a stunning combination of original 18th century buildings and fortifications enlivened by dynamic living history programs. Here, you can explore the land where the Native Americans, French, British and American soldiers struggled for a continent and you will experience Niagara as it once was over 200 years ago. A good thing is that it open in all seasons.
The fun part here is that there is a person dressed as a Soldier with the old gun. He will narrate an incident in the authentic accent and fire the gun in the air. You can click photos with him for your souvenir. They are friendly. Don't worry. 
Admission (Optional): Adult $45; Child (3-12 yrs) $35; Senior (Over 65 yrs) $43; Tickets to Old Fort Niagara & Whirlpool State Park included | Duration: Approx. 2 Hours 30 Minutes
Hundreds of LED lights are housed across the Niagara Gorge in Niagara Falls, Ontario. These lights create a mindblowing show to watch. Do not miss it as it personifies the beauty of Niagara falls. This illumination show takes place every night at dusk. you will get to see the majesty of Niagara Falls from nearby Goat Island.
Admission (Optional): Adult $30; Child (Under 12 yrs) $25
Approximate entry fees of various activities:
| | | | |
| --- | --- | --- | --- |
| Cave of the Winds (Optional) | $19 | $16 (6-12 yrs) | $19 (Over 65 yrs) |
| Jet Boat Ride (Optional) | $69 | $69 (4-12 yrs, mini of 40′ tall) | $69 (Over 55 yrs) |
| Maid of the Mist (Optional) | $22.25 | $13 (6-12 yrs) | $22.25 (Over 65 yrs) |
| Niagara Falls In-Depth Tour (Optional) | $45 | $35 (3-12 yrs) | $43 (Over 65 yrs) |
| Niagara Falls Night Tour (Optional) | $30 | $25 (Under 12 yrs) |   |
Get a glimpse of our Niagara Falls Tour right here!
Check out the short video of our Niagara Falls tour, June 2019. Experience the beauty of the magnificent Niagara Falls! Enjoy the Video!
If you have any questions or doubts regarding visiting Niagara Falls or any activity there, do let me know! I will be happy to help you out! 
Contact me on my social media accounts or leave a comment below. You can also email me by filling out the contact form in the Menu!
Thank you for reading. It really means a lot to me! Take Care!
DISCLAIMER: Some links in this blog might be affiliate links. If you purchase any product or service with the links that are provided by me, I might receive a small commission. Don't worry, you don't have to pay any extra charges! I only suggest products or services that I really love and are of great use for anyone who travels. Whenever you purchase anything using my affiliate link, it helps me to provide more free content and continue blogging. Please support travelandmeditate.com as you already do. Thank you so much! Keep reading and sharing my articles if you like!